The Top Gear Test Track
Monday, 23rd June 2008 by Rob
Last night in the UK saw the start of the eleventh series of popular BBC2 car show Top Gear – so it's time to finally visit the Top Gear studio and track!
Based at Dunsfold Park in Surrey, the two mile track was built on an old RAF airfield by Lotus engineers.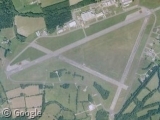 As seen from the opening credits, the large hanger by the track is the studio, although the large Top Gear logo isn't there any more (or perhaps this picture was taken before filming). Just next to the studio, you can see the production office of Top Gear, which is, according to the makers, just a portakabin!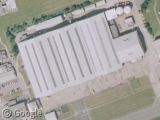 A member at Google Earth Community has posted an overlay of the track, so you can get an aerial overview of Gambon and the follow-through, with the Hammerhead sitting at the end of the runway. The lack of visible tyre marks suggests that the images was captured before the 'Power Lap' and 'Star in a Reasonably Priced Car' features began.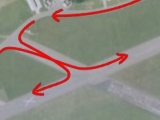 You can find out more about Top Gear and Dunsfold Park at Wikipedia. Sightseeing car fans in the UK can watch the most recent Top Gear again at BBC's iPlayer.
Thanks to Scott Blair, Shane Ferguson, Justin Flavin, Stu Gowdy, Lee, Patrick, Scott and Matt Wix.