Burning Car
Sunday, 6th April 2008 by Alex Turnbull
While capturing Street View images in Cleveland, Ohio, the Google team drove past a car in flames.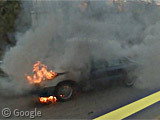 The incident that caused the car to burst into flames took place before the Google car arrived on scene, as the smoke from the fire is visible all the way up the street. It's worth pointing out though that the frame that should have shown the wreck in most detail has been replaced with a shot taken on a different occasion.
What might have happened here?
See our previous posts Expensive Car Crash and Multi-Vehicle Car Accident Captured on Google Street View.