Air Traffic Control Gone Wrong
Monday, 5th May 2008 by Rob
At Beijing's huge Capital International Airport, it looks as if disaster is about to strike. As one unsuspecting propeller plane begins its take-off, it seems completely unaware that a large jumbo jet is hurtling towards it, also ready to leave the ground.
Thankfully, the images were taken at different times, and, with some relief, we can report an incident was avoided – nevertheless, a rather disconcerting sight!
In time for the controversial Olympics this summer, the new – Norman Foster designed – Terminal 3-E has also just been completed, and holds the long winded title of the largest airport terminal building complex built in a single phase, with a floor space of almost one million m2.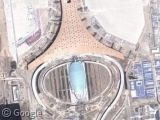 This image was collected when the terminal was nearing completion and, as you can see, the two main parts and the gates are not yet complete. However, Foster & Partners have lots of images showing the completed design in all its glory.
Thanks to Al Cohole.