Buoy Racers
Tuesday, 6th May 2008 by Alex Turnbull
Just off the coast of Portsmouth, England, we can a group of sailing vessels engaged in some competitive harbour or buoy racing.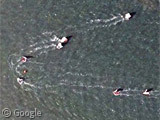 The vessels just rounding the buoy as the image was captured were facing some stiff competition, but the leaders of the pack appear to be way out in front.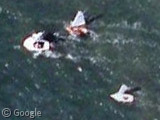 On the beach we can see the Seafarers Sailing Club, and according to Google Earth the image that captured the race was taken on April 21st 2007 – which would mean that we're seeing the 3rd race in the Seafarers Sailing Club Spring Series, which was won by sail number 1178 with K. Stares at the helm!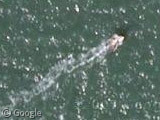 Given that Portsmouth has such a long naval history1 is hardly surprising that there's about a hundred zillion different kinds of boats to see in the area, so why not go for a virtual wander and see what interesting boats you can find?
See our previous post about Portsmouth's Spinnaker Tower and some of the ships on display there, or brush up on this kind of Yacht racing and the Racing Rules of Sailing at Wikipedia.
Thanks to ZaberNS.
---
Portsmouth has been a significant naval port for centuries – the Royal Navy's HMNB Portsmouth naval base is home to the world's oldest dry dock still in use, the Royal Naval Museum, the raised wreck of the Mary Rose, and is the base port for 66% of the Royal Navy's surface fleet. ↩