Santa Pod Raceway
Monday, 5th June 2006 by James Turnbull
Santa Pod is Europe's first permanent drag racing venue, and this aerial photo was taken on a race day. This site us a disused WW2 American Air base once called RAF Podington and it was here that Sammy Miller set the current world drag racing record with a time of 3.58 seconds and a speed of 386mph.
Now I'm not much of a Drag Racing expert, but the cars line up at the north end (you can see a few waiting up there) and then race 1/4mile in various different categories called weird things like "Top Fuel", "Pro Mod" and "Top Alcohol Funny Car". Halfway along the track there's also a tractor – but I think it's just cleaning up rather than racing.
More info on Drag Racing, as ever, on Wikipedia.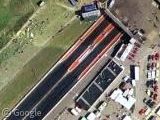 Thanks: Rick