Spinnaker Tower
Tuesday, 14th February 2006 by James Turnbull
Portsmouth's Spinnaker Tower is like a giant sail on the dock. It was supposed to be a millennium project but only opened last year and as you can see it is still under construction in the Google Maps photo. There's loads of photos and a live webcam on BBC Hampshire.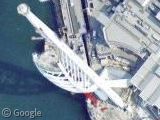 Just to the north is the Portsmouth docklands where Nelson's flagship at the Battle of Trafalgar, the HMS Victory, is docked. Although built in the 1760s it is still manned by the Royal Navy and is the world's oldest commissioned warship.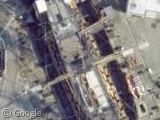 There's also the HMS Warrior ("The pride of Queen Victoria") and the HMS Ark Royal, one of the only 2 UK Aircraft Carriers still in commission.
Thanks: Tom Lithgow, Jonathan Rawle, redstar1, paul d