Northampton Lighthouse
Wednesday, 17th August 2005 by James Turnbull
The 'Northampton Lighthouse' is not really a lighthouse and being 70 miles from the coast wouldn't do a very good job if it was. Built in 1980 and opened by the Queen in '82, the 127m tower houses lift shafts designed to test lifts travelling at speeds of up to 7 metres a second.
The tower has been unused since 1997 and although a listed building is facing an uncertain future. (Wikipedia Page)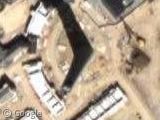 Thanks: Jonathan Rawle.