Windsor Castle
Friday, 21st April 2006 by Alex Turnbull
Today is the Queen's 80th Birthday (her actual birthday, as opposed to her official birthday), which is being celebrated at Windsor Castle in Berkshire, England. It is the largest inhabited castle in the world and the oldest in continuous occupation - there's been a functioning castle here since around 1070.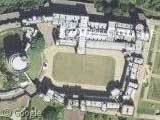 Besides a giant Royal Standard flag being raised over Windsor Castle (presumably from the Round Tower?), today's events include a 41-gun royal salute in Hyde Park, and an extended royal walkabout! Er, great. You can see lots of people hanging around in the castle, maybe hoping to catch a glimpse of the Queen themselves I don't doubt.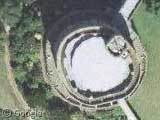 There's a full history of the castle at Wikipedia, and also a page explaining why the Queen gets two birthdays...
As an aside, Jonathan Rawle says:
I noticed the new hi-res areas seem to be appearing on a county-by-county basis. You can clearly see the outline of West and South Yorkshire and Greater Manshester; Cambridgeshire; Berkshire; and south Wales minus Monmouthshire. So if you're looking for something in those areas, you're guaranteed a good shot!
Thanks to Tom, Tim and Jonathan Rawle.