Canary Wharf
Thursday, 11th August 2005 by Alex Turnbull
This is Canary Wharf, on the Isle of Dogs, London. Canary Wharf contains the UK's three tallest buildings, the 1 Canada Square building (235m), the HSBC Tower (200m) and the Citigroup Centre (199m). As ever, tons of fascinating info on Canary Wharf at Wikipedia.
Immediately to the west of the Canada Square building you can also see the glass roof of the Canary Wharf Docklands light railway station (Wikipedia entry).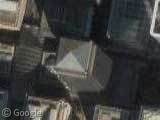 Thanks: Merk, Jonathan Rawle, Adam Sadler and Alan.