The Sun as a Face
Monday, 9th June 2008 by James Turnbull
This sparse forest in Denmark bares a uncanny resemblance to a face, could it be just a coincidence?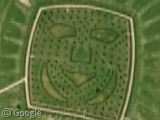 Unfortunately not, as it's man-made. But the face is the work of famous 1800s Danish author Hans Christian Andersen, who originally created the design by cutting some holes in a bit of paper.
Titled "The Sun as a Face", I doubt he ever expected to have the crude artwork recreated in the medium of forest. Neither would he have expected a "nature playground", as seen in this smaller representation to the north.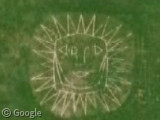 The forest was planted in 2005 as part of Odense's celebration of the bicentenary of Hans Christian Andersen's birth.
However, the city officials went completely overboard, and plastered this design all over the city!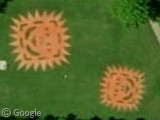 Further information is available in PDF leaflets for the wood and the celebrations.
Thanks to DJoe.