Independence Day 2008
Friday, 4th July 2008 by James Turnbull
If you've been wondering why half of the Internet had gone quiet, then (like us) you might not have realised that today is the 4th of July, and that means it's America's Independence Day.
The holiday marks the signing of the Declaration of Independence on July 4, 1776 – which is today held at the National Archives and Records Administration in Washington, D.C..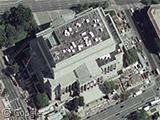 Buy what does the National archive store in those white boxes on the roof?
All over America people are celebrating Independence Day with fireworks, parades, barbecues and public displays of patriotism: such as this guy dressed like Uncle Sam in Austin, Texas.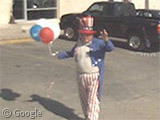 Not wanting to be left out of the party, the Street View Icon Guy has dressed up for the occasion too!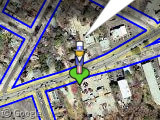 Read the full history of the holiday on Wikipedia.