Olympics 2008: Beijing National Stadium (The Bird's Nest)
Friday, 8th August 2008 by Alex Turnbull
Unless you've been hiding under a very large rock, you're probably aware that today sees the start of the 2008 Summer Olympic Games. Held in Beijing, China, the celebrations begin at precisely 8pm local time, 8/8/08. This is a date of extremely special significance in China, as the number 8 is considered to be very lucky.
10,500 athletes are expected to compete in 302 events across 28 sports, in a competition that has been beset with controversy since long before it was due to begin. Political issues aside, the Chinese government has invested heavily in new facilities and transportation systems - in total 37 venues will play host to events, including 12 newly constructed ones.
Google recently released up-to-date images of Beijing, so we'll be able to see the finished structures, despite some having only been completed a few weeks ago!
Today we're kicking off with the centrepiece location of today's opening ceremony: the Beijing National Stadium. Completed in March this year, it's nicknamed "The Bird's Nest" because of its skeletal, nest-like structure, which was constructed using 36 km of steel sheeting.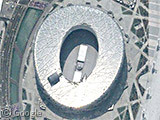 The 330 m long, 220 m wide, and 69.2 m tall Bird's Nest cost about 3.5 billion yuan, and during the course of the competition will seat up to 91,000 spectators, who will be here watching the main track and field events.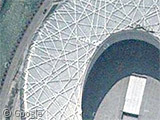 Originally the Guangdong Olympic Stadium was going to be the main venue for these Olympics, but it would appear that the Chinese wanted something much newer and shinier to show off to the world.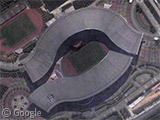 If you're using Google Earth then you'll be able view 3D models of the places we're featuring during the Olympics by turning on the "3D Buildings" layer.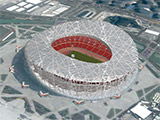 Read more about the Beijing National Stadium and the 2008 Summer Olympics at Wikipedia. Also, boston.com's Big Picture blog published an absolutely stunning photoset of China's preparations for the Games which you'd be foolish to miss!
Thanks to Dave and Christian Stüben.