Stefan's Skyneedle
Tuesday, 22nd July 2008 by James Turnbull
The Skyneedle is an 88m tower in Brisbane, Queensland, that was constructed for the World Expo '88.1 During the course of the Expo the tower shone a beam of light upwards that could be seen from 60km away.
After the Expo ended the tower was supposed to go to Tokyo Disneyland, but successful local hairdresser Stefan Ackerie felt that the Skyneedle should stay in Brisbane. He felt so strongly in fact, that he bought it himself and had it moved just 500m to his company's headquarters.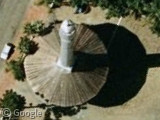 The tower light was originally only used on special occasions, as it could potentially cause havoc for aircraft headed to the nearby Brisbane Airport, but in 2006 an electrical fault caused a fire near the top of the tower, and today it's unclear if the light works at all.
There's a bizarre bonus sight at the back of Stefan's building too - an 8.5m long tennis racket, which was purportedly designed as a giant catapult?
Just what hairdresser Stefan planned to catapult is anyone's guess.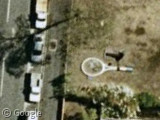 More information on Expo '88 and The Skyneedle at Wikipedia, and Stefan himself at his corporate website.
Thanks to Ashley Thistlethwaite.
---
See what they did there? ↩︎