Google Earth for iPhone
Monday, 27th October 2008 by Alex Turnbull
Despite having their own mobile phone platform to develop for, Google have somehow managed to find time to write one of the most important mobile applications yet released – yes you guessed it, Google Earth has been launched for the iPhone!
The application is free to download from the iTunes Store and initial impressions are good. The pinch/zoom functionality from the iPhone has been fully implemented, as has a physical tilting view that works surprisingly well. On the down side however, the application is pretty slow at this stage, despite the imagery having been scaled back to speed things up.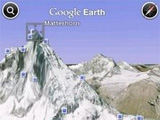 Google Earth iPhone includes all the data that the full version of Google Earth displays from Wikipedia and Panaramio but doesn't yet support kml files, so as yet we're unable to load Google Sightseeing links directly into the Google Earth app.
With the announcement that Street View imagery will be coming to the iPhone very soon, it now seems that the full suite of Google's geo-focussed products are about to become available literally anywhere in the world.
In the meantime, remember that Google Sightseeing is already optimised for your iPhone, so you can keep up with the latest sightings on the move.