Mount Nyiragongo Destroys Goma (Volcano Week 3)
Tuesday, 14th October 2008 by James Turnbull
It's Volcano Week 3 here at GSS, which explains why all of our posts over the course of the week are very likely to be volcano related.
Mount Nyiragongo is an active volcano in the Virunga mountain range which runs along the northern border of Rwanda, the Democratic Republic of the Congo, and Uganda.
Together with its partner in crime, Mount Nyamuragira, the volcanoes are disproportionally responsible for nearly two-fifths of Africa's historical volcanic eruptions.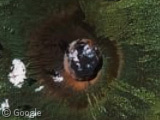 Nyiragongo last erupted in early 2002, when a large river of lava wreaked havoc on Goma, Democratic Republic of the Congo, destroying 40% of the city. Thanks to early-warning systems the majority of the population were evacuated, however some 120,000 people were made homeless in the devastation.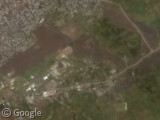 The Google Earth image of Goma was taken 3 years later, in February 2005. The dried lava flow is still apparent throughout the city including Goma International Airport, where the northern third of the main runway has been obliterated.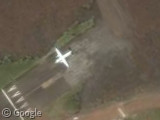 Today the airport is still closed to international flights and, as they are cut off from taxiing to the runway, the planes seen here have been trapped at this airport ever since the eruption.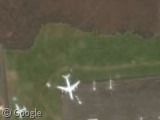 Read more about Nyiragongo and Nyamuragira on Wikipedia and see ground level pictures on the BBC.
Thanks to Jez Robinson.