Solfatara, Italy (Volcano Week 3)
Wednesday, 15th October 2008 by Ian Brown
It's Volcano Week 3 here at GSS, which explains why all of our posts over the course of the week are very likely to be volcano related.
In a suburb of Naples lies a shallow volcanic crater named Solfatara.
Considered dormant since its last eruption in 1198, today the crater has bubbling mud pools and fumaroles which emit steam containing sulfur and other gases. If you're thinking that may smell bad, you'd be correct. The stench is indescribable!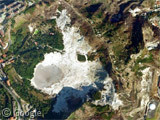 Hard to imagine then, people of the late 19th century voluntarily sitting in caves near the crater that were turned into natural saunas. Breathing the air was thought to help respiratory problems while the volcanic mud was considered beneficial for the skin.
While not as popular a tourist attraction as nearby Vesuvius, Solfatara is worth a visit to experience the heat and odour of what the Greeks and Romans were convinced was the entrance to the Underworld.
There's a little more about the Solfatara volcano at Wikipedia, and lots of info at the volcano's official site.