Site News: New Imagery and French Street Views
Wednesday, 15th October 2008 by James Turnbull
Rudely interrupting our very important Volcano Week 3, Google have chosen this week to make two significant imagery updates.
Firstly, a ton of new satellite and aerial imagery is currently available worldwide in Google Earth. A scavenger hunt for the highlights is underway, and the Google Earth Blog is maintaining a more complete list of updated areas, and presumably there's more still to be discovered!
Secondly, Google has also added tons of new Street View imagery to France. This is interesting as, other than the special Tour De France Street View coverage, this is the first proper roll out of imagery in Europe.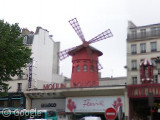 The new French SV imagery adds coverage to the five major cities of France, and at an improved resolution over the previous imagery.
Perhaps the roll out of imagery in other European countries is imminent?