Tour de Street View
Wednesday, 2nd July 2008 by James Turnbull
The first Street View images outside America are now available – Street View has come to France!
Added in celebration of the upcoming Tour de France, the street view images are mostly restricted to the race route (rather than allowing you to explore whole cities).
However, there is lots to see, including the most classic of sights: The Eiffel tower1.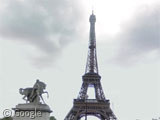 Street View cars have been spotted all over Europe, so other countries are no doubt on the way.
In the meantime, let us know what you find in France and, if you speak French, make sure you're subscribed to Google Sightseeing Français.
Thanks: Google Maps Mania