Mt. Pinatubo (Volcano Week 4)
Monday, 27th July 2009 by Evan Brammer
It's Volcano Week 4 here at GSS. Volcanoes, about a week. You know the drill!
Beauty sometimes erupts from utter disaster. Take, for example, the gorgeous crater lake that formed in the remnant bowl of the 1991 Mount Pinatubo eruption in the Philippines. A stunning natural wonder was created from one of the largest, most devastating volcanic eruptions in the past 100 years.
No one knew there was volcanic action happening far below the surface of Pinatubo. The local indigenous people, the Aeta, had no recollection of any previous blasts in their oral history and geologist data was scarce as well.
Yet, during the month of June, 1991 the mountain spewed forth 10 cubic kilometres of hot, molten magma; injecting more aerosols into the stratosphere than that of Krakatoa - one hundred years before.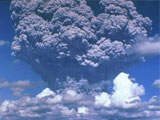 Due in part to Typhoon Yunya that was ripping through the island nation, the ash cloud that should have been spread over the surrounding oceans instead cycloned back over the Luzon region, where Pinatubo once lay dormant.
The mixture of the typhoon force winds and rain with the ash cloud resulted in a rainfall of heavy mud causing considerable damage to neighboring cities. This included the already evacuated Clark Airbase, a U.S. Air Force establishment, whose many flat-roofed buildings collapsed under the weight of the ash and mud.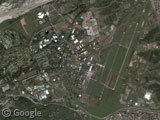 The military never permanently returned to the base, instead they turned it over to the Philippine government, who converted half of it into a Philippine Air Force base and the other half into a Holiday Inn Resort complex.
It is easy to see the ravines and canyons coming down the sides of the mountain that are now filled with lahar, a volcanic mud mixture. Lahar filled river beds streak the landscape leading away from Pinatubo.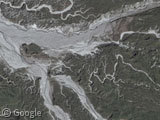 After years of rainfall, the basin of the once-mountain filled with water to form Pinatubo Crater Lake. Now a tourist destination, many will trek for several hours through deep jungle trails to reach the clear waters of the lake.
Back in 2002, the lake had filled the crater so much that there was fear that the rim might collapse, causing considerable damage to local farms and endangering some 45,000 residents in neighboring villages.
To prevent such a collapse, the government commissioned engineers who sand bagged a makeshift river bed, using a lahar mudflow path, 5 metres wide and then cut a notch the same width in the lowest part of the crater's rim. They managed to drain off 25% of the crater's water into the nearby Bucao River.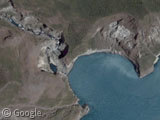 All in all the blast at Pinatubo caused the displacement of hundreds of thousands of people, the deaths of over eight hundred, and damaged billions of pesos worth of property, buildings, and farmland. But, they got a very beautiful lake out of it - that is, if you're willing to make the trek.