Toronto Music Garden
Friday, 3rd October 2008 by Ian Brown
Tucked away on the lakefront of Canada's largest city is the Toronto Music Garden.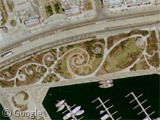 The park, which opened in 1999, was designed to represent the different elements of Bach's Suites for Unaccompanied Cello and was a partnership between landscape designer Julie Moir Messervy and cellist Yo-Yo Ma.
Six distinct areas represent the dance movements of the Suite and are intended to give visitors a sense of flowing rivers, forest trails, wildflower meadows, a quiet conifer grove, a formal flower garden and an amphitheatre of large grass steps.
Microsoft's Live Maps has a bird's eye view, showing the park with it's more lush summer greenery, which mirrors the view no doubt enjoyed by many people living in the condo towers along Queens Quay.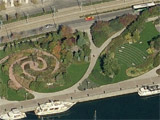 More information (history, pictures and an excerpt of the music) at the City of Toronto website.
Thanks to Kenway and Chris.