Amazing Mazes Megapost
Friday, 16th January 2009 by Ian Brown
It's been a little while since we looked at mazes here on Google Sightseeing, so here's a collection of some of the latest finds.
While there are several claims to be the world's largest maze, the most legitimate seems to be the Peace Maze, in Northern Ireland – which is officially recognised by the Guinness book as the largest permanent hedge maze in the world.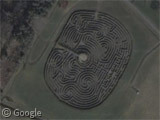 The path of the Peace Maze is 3.15 kilometres (2 miles) long, and contains many features symbolic of The Troubles; most notably a divide which has to be crossed to get to the end.
There are many non-permanent mazes, often created from corn or other plants. This one outside York claimed to be the largest when it opened with a Star Trek theme in 2006, but in the current view it is somewhat smaller.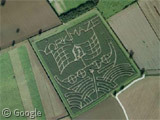 At Temple Hall Farm Regional Park near Leesville, Virginia, there's a maze celebrating 100 years of flight.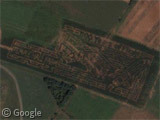 Across the country near Olympia, Washington, a TV fan has clearly paid homage to his favourite series by creating this CSI themed maze.
Back in England, we have a Monster Maze at Noah's Ark Zoo Farm in North Somerset. Like many maze owners, the people in charge here make grand claims about their maze's importance – but in truth this is just one of many attractions that claim to be the world's longest hedge maze.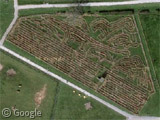 Finally here in Conholt Park, Wiltshire, we find what might be the most bizarrely shaped maze ever – a giant foot! (Perhaps this is related to the World's Largest Fingerprint?)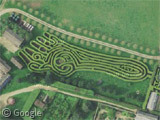 See our Maze category for loads more interesting mazes!
Thanks to Marc Armstrong, DJ Swammi, Kel, Jim Culp, john and Chris Branagan.