The Faith Dome
Friday, 15th May 2009 by Alex Steinberger
The Crenshaw Christian Center's Faith Dome is a non-denominational megachurch located in the heart of South Los Angeles. With seating for over 10,000 attendants, it is one of the largest places of worship in the United States.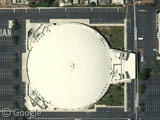 Brainchild of Ever Increasing Faith Ministries pastor Frederick K. Price, construction of the Faith Dome was completed in 1989 on 32 acres of the former Pepperdine University1 campus. The geodesic church sanctuary is constructed almost entirely of aluminum and hosts Dr. Price's sermons which reach over 15 million families across the United States each week.
By all reports a lively character, Dr. Price oversaw the construction of this behemoth structure from start to finish. During an inaugural sermon, he described his love for the new church structure, exclaiming "Hallelujah! Jesus just hit a grand-slam home run!"
Situated along a busy flight lane, the Faith Dome is clearly visible to thousands of airline passengers landing at Los Angeles International Airport every day. It seems that Dr. Price and his construction team must have been acutely aware of this fact. An enormous advertisement to anyone looking down, the church's car park has been emblazoned with gigantic letters proclaiming the Faith Dome's glorious existence.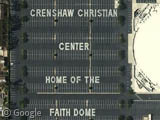 Then again, it could be a way of broadcasting to the "big man" himself.
Thanks to stongey and Bird's Eye Tourist.
---
Pepperdine University fled the area in the 1960s due to crime and the overall degradation of the neighborhood. It is currently located in Malibu, CA. ↩