Millennium Dome / The O2
Thursday, 29th October 2009 by Ian Brown
The Millennium Dome was an exhibition centre built in London to celebrate the first year of the new millennium1. It has since been converted into the O2 entertainment complex.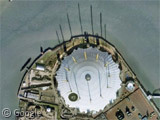 Whatever the name, we're very impressed with the shadows cast by the twelve 100m tall pylons, which are intended to represent a clock face, a nod to the Greenwich Meridian which runs nearby.
The pylons anchor cables which support gleaming white plastic-coated fibreglass panels. At 365m across (representing the number of days in the year), this is the largest dome of its type in the world. It reaches a height of 50m, and encloses an area of more than 80,000 square metres. Pierce Brosnan's James Bond fell down the outside of The Dome during the opening sequence of The World Is Not Enough.
The uniformity of The Dome is interrupted by one flaw - a large hole had to be left in the structure to accommodate a ventilation shaft from the Blackwall Tunnel which runs below the site.
The Millennium Experience opened on January 1, 2000. It was conceived as a showcase of British excellence - a blend of art, performance and exploration in 14 zones funded by a top-notch collection of sponsors eager to attach their brand to the promise of the new millennium.
However, the reality2 was that, despite the project running considerably over budget, visitors often found the queues unbearable and the exhibits confusing. This resulted in a media backlash, though it is claimed that visitor feedback was generally positive (even if the total number of visitors was half what was originally hoped).
After closing at the end of 2000, the contents of The Dome were auctioned off3, and the facility sat idle other than for occasional special events.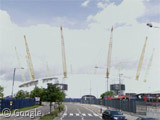 Approaching The Dome on Millennium Way
A development company purchased the site and sold naming rights to O2 in 2005. The interior was gutted and two years construction saw the creation of a fully enclosed entertainment 'district', dominated by a 20,000+ seat arena4, but also featuring cinemas, clubs, restaurants and exhibition spaces.
The O2 Arena has presented many of the world's best known musical acts as well as sporting events and other spectacles. Prince played 21 shows shortly after the arena opened, and before his death earlier this year, Michael Jackson had scheduled (and sold out) 50 shows over 9 months.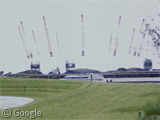 The Dome from the north bank of the River Thames.
The Arena will host several events during the 2012 Olympics, though it will be renamed the North Greenwich Arena due to licensing and sponsorship restrictions.