Geodesic Dome, Baton Rouge
Friday, 3rd March 2006 by James Turnbull
A large Geodesic Dome which formerly housed a train servicing and painting operation stands in a state of disrepair in Baton Rouge.
There are efforts to save the dome as architects consider it a fine example of R. Buckminster Fuller's inventive dome design, which has also been used in the building of Disney's Epcot Centre. Fuller also designed the Biosphere on Île Sainte-Hélène for Expo '67.
Further history of Fuller and the abandoned dome from Gambit Weekly.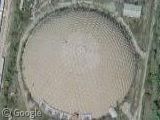 Thanks: Cody, Michael & Trey