Rock Church, Helsinki
Thursday, 9th July 2009 by Ian Brown
For our first post about Finland, we visit the capital Helsinki where we find Temppeliaukio - a circular dome-roofed rock church carved into a large granite outcropping.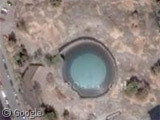 Rather more modern than the Ethiopian Rock Churches which I wrote about recently, Temppeliaukio was originally conceived before the second world war. Construction was finally completed in 1969, at a quarter of the originally-intended size. I assume the Church would have filled most of the rocky area clearly visible from Bing Maps' bird's eye view.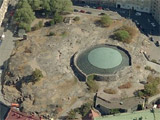 The image of a space ship surrounded by rock originally created some controversy, but over time it has grown to become one of Helsinki's leading tourist attractions.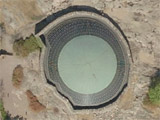 Temppeliaukio is perhaps best appreciated from the inside where the bare granite walls and gleaming copper dome are lit with natural light from 180 windows which separate those two elements of the structure.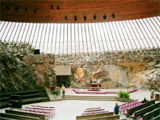 Rock excavated for the interior of the Church was used to build up the walls, and to create the entranceway. While the walls were originally supposed to be covered over, it was decided to leave the rock bare as it created excellent acoustics for musical performances.
Thanks to kockopes.