Plymouth Rock
Thursday, 22nd November 2007 by James Turnbull
Today, the fourth Thursday of November, is the American holiday of Thanksgiving.
The Thanksgiving festival traditionally thanks God at the end of the year's harvest, and is a tradition passed down from the Plymouth Colony who settled in New Plymouth in 1620.
When these Pilgrims first landed they apparently stepped on what is now known as "Plymouth Rock", a large piece of granite which is currently housed in the rectangular building on the shore.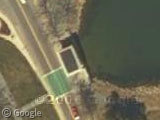 The rock wasn't identified as being of any significance until over a hundred years later in 1741, when an elder of the church pointed it out as being "the stone".
Since then it's been broken in two, dragged all around Plymouth, and had numerous chunks removed. Its current resting place was built in 1920 and puts the rock back at sea level.
Happy thanksgiving to all our American readers!
Wikipedia: Plymouth Rock, Plymouth Colony & Thanksgiving
Thanks to Steve Ransom, AndrewAnorak & John