World's Largest Crosses
Friday, 23rd November 2007 by Alex Turnbull
As so often seems to be the way with claims of "World's Largest", there's a certain amount of jostling for the top slot - regardless of who should rightfully be in it.
Most often described as the World's Largest Cross is the one in Effingham, Illinois. Unfortunately it isn't covered on Google Maps, but Microsoft have a view of the area.1 Bizarrely, on the day this image was taken the cross appears to have donned some sort of invisibility cloak, but take my word for it, at 60.3 m high it just ain't that big.
Over in Groom, Texas, they also have a very large cross, and we can actually see it this time. Dubbed "The second largest cross in the western hemisphere", it used to be the largest in the western hemisphere (until they built the Effingham cross to be 2.4 m taller). Anyway, it's a dubious claim-to-fame either way.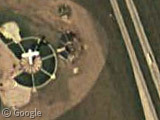 Never fear though, as there's a truly spectacular large cross to see near Madrid, Spain. The Valle de los Caídos (Valley of the Fallen) contains one of the world's largest basilicas, which was hewn out of a granite ridge by Spanish dictator Francisco Franco - to honour those who fell during the Spanish Civil War.2 Absolutely towering above the basilica is the tallest memorial cross in the world, a 152.4 metre high stone cross that took 18 years to complete.3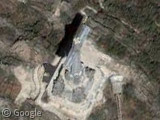 Not to be outdone, in Nazereth plans are underway to build the true "World's largest cross" - but at a proposed 60 metres they're not even going to come close.
More on Effingham, Groom and the Valle de los Caídos at Wikipedia, and in our own original post on the Valle de los Caídos (the imagery of it has been updated since then).
Thanks to Jan & michael woodruff
---
If you're not using Internet Explorer or Firefox, expect this link not to work. ↩︎

Wikipedia says: "Spain's Socialist Government has been debating plans to re-designate the Valley of the Fallen a "monument to Democracy" or as a memorial to all Spaniards killed in conflict." ↩︎

The memorial as a whole was allegedly built by the forced labour of 20,000 Republican prisoners. ↩︎