Valle de los Caidos
Thursday, 2nd February 2006 by James Turnbull
The Monumento Nacional de Santa Cruz del Valle de los Caidos (or, "National Monument of the Holy Cross of the Valley of the Fallen") not only has a really long name but is the tallest memorial cross in the world, at 152.4 metres.
The memorial was ordered by Generalissimo Francisco Franco to honor the Nationalist soldiers who died in the Spanish Civil War. It was built by thousands of Republican POWs and also features a large church where Franco and other former leaders are buried.
The current Spanish Government has been debating plans to re-designate the Valley of the Fallen as a memorial to all Spaniards killed in conflict, regardless of their political choices.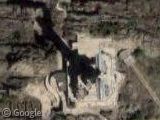 Thanks: Jonathan & Arthur Rivers