Remote military outposts (Island Week 4)
Thursday, 1st October 2009 by RobK
It's Island Week 4 here at GSS, which means we'll mostly be posting about Islands. For about a week.
GSS Reader Reg Coppicus from Canada thinks Isla San Felix might be "the crappiest posting ever". Fortunately for us, he's talking military posting – this remote island in the South Pacific, he says, is home to:
an airstrip, some sea birds and nothing else.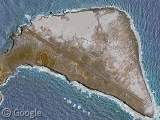 Come on Reg, you're being unfair. Look – there's plenty to keep the chaps of the Chilean Navy occupied here at the San Felix Naval Air Station, located on one of the attractively named Islas Desventuradas (Unfortunate Islands). As well as the 2km-long runway there are quite a few buildings, some roads, and best of all a tennis court, plus what looks to be some other kind of sports field1 just to the north. Just as well, considering these rugged islands are some 900km off the coast of Chile and otherwise totally uninhabited.
Indeed, San Felix looks like a throbbing metropolis compared with tiny Malpelo Island, which belongs to Colombia although it is actually slightly closer (360km) to the coast of Panama. Malpelo appears to support just one building2 – an army outpost established in 1986. Those long evenings must just fly by.
Because of the minimal human intrusion, Malpelo is an important marine reserve – the largest no-fishing zone in the tropical eastern Pacific. In 2006 it was named as a World Heritage Site by Unesco, which calls it "a 'reservoir' for sharks, giant grouper and billfish". It is a popular destination with shark divers, who apparently find the prospect of immersing themselves with "aggregations of over 200 hammerhead sharks and over 1,000 silky sharks, whale sharks and tuna" appealing…
Read more about the Islas Desventuradas and Malpelo Island at Wikipedia.
Thanks to Reg Coppicus.