Ghost Towns: Ağdam, Azerbaijan
Wednesday, 13th January 2010 by Chris Hannigan
This post is part of an occasional series where we visit some of the world's most interesting abandoned places.
The ruined city of Ağdam in southwestern Azerbaijan once had a population of over 150,000 people, but today it's an almost entirely uninhabited ghost town. The land around the city was part of a dispute between the Azerbaijani military and Armenian forces during the Nagorno-Karabakh war, and in July of 1993, Armenian forces moved through the city and forced out the entire Azerbaijan population.
The residents of Ağdam barely had time to pack up their personal belongings and evacuate, before the Armenians destroyed most of the city in an attempt to prevent its recapture. One of the only buildings to remain structurally intact is Ağdam's large mosque, which is today used as an Armenian cattle stable.
Farmers are pretty much the only people who hang around Ağdam these days; as evidenced by a handful of cow fields surrounding the city. The town itself is full by weeds and underbrush, and is generally only visited by the occasional looter looking for free construction supplies.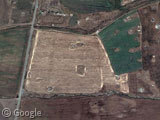 In 1994, after six years of fighting in the area, a ceasefire to the Nagorno-Karabakh war was called, but scattered violence continues throughout the region today. The Armenians currently use Ağdam as a buffer zone for any Azeri attack, meaning that Ağdam remains empty and decaying, but not the kind of place to drop by for a spot of sightseeing.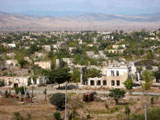 Read more about Ağdam on travel-images.com. Also, a visitor to Ağdam wrote a blog at lonelyplanet.com, and Wiki has more information about the Nagorno-Karabakh war.
Thanks to Levon!