Don Justo's Cathedral
Monday, 1st March 2010 by Ian Brown
In the Spanish town of Mejorada Del Campo, former monk Justo Gallego Martínez has devoted the past 50 years of his life to constructing a cathedral, all by himself.
After contracting tuberculosis as as a young man, Don Justo promised to build a cathedral dedicated to "Our Lady of the Pillar" if he recovered from his illness.
A man of his word, Don Justo hasn't let his lack of architectural knowledge impede this mission – there are no architectural plans for the cathedral; the design has simply been inspired by other churches and Don Justo's own vision. However, this has led to concerns about the building's structural integrity.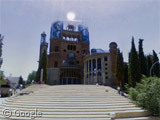 Don Justo has done the majority of work by himself, but has had occasional assistance from family members or volunteers. He uses income from his farm to purchase some construction materials but the bulk are recycled, donated, or leftovers from nearby building projects.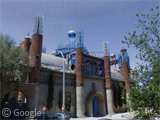 It's probably going to take another 15-20 years of work to complete the cathedral, but as Don Justo is now in his mid-80s, he may not be around to finish it himself.
Given the uncertain construction quality, and the fact that technically, permission for the construction was never granted in the first place, it's clear that the town authorities will face a dilemma about whether to leave it standing after Don Justo's eventual death.
Thanks to Nicolas.