The Eyjafjallajökull Volcano
Tuesday, 20th April 2010 by Chris Hannigan
The volcano erupting under the Eyjafjallajökull glacier in southern Iceland has immersed Europe in a travel nightmare lately, and according to recent media reports, this eruption could be just the beginning…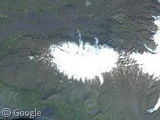 The Eyjafjallajökull volcano usually sits hidden under this large glacier seen on Google's satellite imagery. Now that the volcano is erupting, the heat is melting the glacier sending massive amounts of water down to the farming lands below and forcing local evacuations.
The ash cloud from Eyjafjallajökull has spread over northern Europe, causing massive travel chaos as most airliners are unable to fly through or around the damaging plume. The airspace of many countries was closed almost completely – the largest air traffic shut-down since World War II – which left millions of travellers stranded.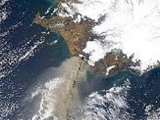 Strangely enough, most of Iceland itself is unaffected by the eruption because the ash continues to blow south, taking it away from populated places like the capital city of Reykjavík.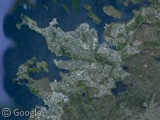 Scientists monitoring this eruption continue to monitor other volcanoes in the area around Eyjafjallajökull. Perhaps the most observed is Katla, a volcano much larger and more dangerous than Eyjafjallajökull, but also part of the same volcanic system.
In every recorded instance where Eyjafjallajökull erupted, Katla has blown its top as well. In the 1755 eruptions, Katla discharged enough water from nearby glaciers to nearly match the discharge of the Amazon, Mississippi, Nile, and Yangtze rivers combined. Scientists warn that if Katla erupts, the ash plume formed could be much larger than seen from Eyjafjallajökull, due to the massive glacier resting on top of the crater.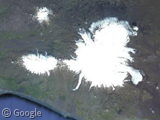 As of writing, some airports in northern Europe have announced plans to re-open. Airports such as Manchester and Glasgow are working with airlines to be near full operation by Tuesday evening.