The Tabernas Desert
Tuesday, 22nd June 2010 by Noel Ballantyne
You might not think you've heard of the Tabernas Desert before, but if you've ever seen a spaghetti western, then you almost certainly have.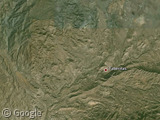 Located in the south of Spain, the protected wilderness area features three seperate wild west villages, which have been used as locations in many films and all are now tourist attractions. Spread over an area of 280 km2 (108 square miles) Tabernas is an ideal stand-in for the American West as it receives just 24 cm of rain a year, over 3000 hours of sunlight, and has an average temperature of 18˚C.
Texas Hollywood, also known as Fort Bravo, close to the town of Tabernas, was used a location for the making of Laurence of Arabia, The Good, the Bad and the Ugly, Indiana Jones and the Last Crusade and many, many more films.
The location comprises both a Texas and Mexican-styled village, including saloons, hotels, churches, a fort and close-by, an Indian village of wigwams which are visible in streetview.
Western Leone was most-famously used to film Once Upon in the West and is named after its director Sergio Leone. Wigwams can be seen, on both maps and streeview.
Mini Hollywood, also known as Oasys Theme park, was used in For a Few Dollars More, Conan the Barbarian, and Mad Max Beyond Thunderdome. The film set is part of a theme park, which includes a zoo with bears, giraffes and tigers – and if you're looking for somewhere to host a western-themed wedding, the set is available to hire.