Shiprocked on the Highway to Hell (Desert Week 2)
Friday, 19th June 2009 by Evan Brammer
Welcome to the second annual GSS Desert Week! In time-honoured tradition, we'll mostly be posting about deserts. For about a week!
It appears that snow has fallen in hell! At least it has along "The Devil's Highway". Let's take a drive down former US Route 666 to see what kind of trouble we can get into.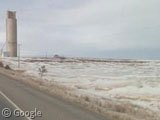 Beginning in the mile high state of Colorado and running south through the Sonoran desert, the demonically-named road ends in Douglas, Arizona along the Mexican border.
This highway was of course named for bearing the Number of the Beast, but a high number of vehicular fatalities attached a stigma to the road that persists, despite it having been renamed in 2003. This may have been due in part to a serious bout of "chronic sign theft".
Theft along the Devil's Highway you say? To be expected for sure!
There's definitely some sort of dark magic happening on the highway, as you can see in this aerial shot south of Gallup, New Mexico, where the road has been sliced into two parts, which run alongside but never into each other1!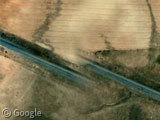 While the route number and nickname draw many tourists on their own, many often stop by to see another spectacular sight, the Shiprock rock formation (Wikipedia). It's close enough to the road that even the Street View car got a good look!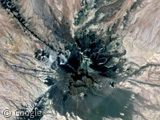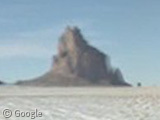 "The day it snows in hell" appears to have arrived in this shot as well, as there is clearly snow on the ground right in the middle of America's hottest desert.
Like Route 666, the Sonoran desert stretches from the Mexican border to Colorado; covering an impressive 311,000 square km. It's home to dozens of mammal, fish and amphibian species, hundreds of bird species, and thousands of native bee and plant species; as well as America's only population of Jaguars!
It is also the only place in the world the famous saguaro cactus grows, despite being an international symbol for deserts.2
Route 666 and the Sonoran desert are in an area of extremes. In the day the sun scorches down on all weary travellers. At night the heat dissipates to the point that there is often snow on the ground by morning. You fall asleep sweating, you wake up freezing.
So consider yourself warned. The desert is is desolate, rugged, and rough. But come on! If you're going to travel the Devil's Highway, you going to face some evils, right?