The Osoyoos Desert (Desert Week 2)
Wednesday, 17th June 2009 by Ian Brown
Welcome to the second annual GSS Desert Week! In time-honoured tradition, we'll mostly be posting about deserts. For about a week!
While Canada is generally thought of as a land of ice and snow, it is home to one arid desert – the Osoyoos or Nk'Mip Desert of British Columbia.1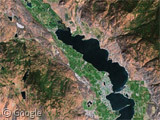 Surrounding the community of Osoyoos, and the lake of the same name, this area of the Okanagan is home to desert plants and animals not found anywhere else in the country. It is one of the hottest and driest parts of Canada year-round, and some believe that Osoyoos Lake is the warmest in the world (though there are several competing claims for that title.)
The desert is characterised by barren hillsides and plains, bordered by lush green fields and orchards which survive with heavy irrigation.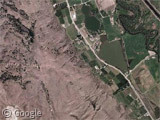 For a small desert, it is surprisingly well endowed with visitor centres. The Osoyoos Desert Society has its Centre to the north-west of town, while the Nk'Mip Indian Band's Desert Cultural Centre is "an architectural marvel sensitively constructed into a hillside" on the other side of the lake. At both, you can learn about the local flora and fauna through static displays and a network of trails
The Nk'Mip Band have also managed to carve a golf course out of the desert, with an associated resort and spa, while nearby is an estate of vineyards producing some of the wines for which the Okanagan is renowned.
Some distance out of town, the desert even has a salt lake, called – not surprisingly – Spotted Lake. The spots appear when water evaporates, leaving rich mineral deposits behind.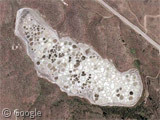 Panoramio has a good selection of pictures of Canada's Desert.
---
OK, OK, we're willing to admit that technically it's a shrub steppe. ↩