Desert Dome (Desert Week 2)
Tuesday, 16th June 2009 by Alex Turnbull
Welcome to the second annual GSS Desert Week! In time-honoured tradition, we'll mostly be posting about deserts. For about a week!
The Henry Doorly Zoo in Omaha, is renowned across the US for exhibits like the largest cat complex in North America, the world's largest nocturnal exhibit and indoor swamp, and the world's largest indoor rainforest.
The reason we're here today however, is that under the world's largest glazed geodesic dome we find the world's largest indoor desert, which is home to plants and animals from the Namib Desert, the Australian Outback, and the Sonoran Desert.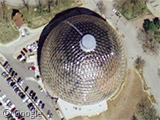 The dome has two interior levels covering 7,800 sq m (84,000 sq ft), and rises nearly 42 m (137 ft) above ground. True to the form of the best geodesic domes, there are no internal supports, with the structure's 1,760 triangles providing all the strength it needs to remain standing.
Dubious claims to fame aside, the zoo does fantastic work in animal conservation and research, and was voted Best Zoo in America 2004 by Reader's Digest.
Thanks to Juicio.
There's more information at the Henry Doorly Zoo Official site and Wikipedia page.