Mount Kilimanjaro (Volcano Week 5)
Friday, 6th August 2010 by Noel Ballantyne
Mount Kilimanjaro is an inactive stratovolcano and is the highest mountain in Africa. At 5,893 metres (19,334 ft) above sea level, it is also the tallest freestanding1 mountain in the world. Mount Kilimanjaro is also known for its glaciers at the summit, and is a World Heritage site.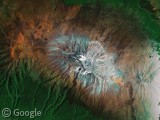 Mount Kilimanjaro consists of 3 separate volcanoes, Kibo (the highest at 5,893 m), Mawenzi (5,149 m), and Shira(3,962 m).
Thousands of tourists hike Kilimanjaro every year, many doing it for charity. There are many tour companies that will cater for your every need whilst visiting the area.
After arrival at Kilimanjaro International Airport, you will stay at a local hotel in Arusha or Moshi, until you are to commence your climb. There are many different trails to the summit, depending on your fitness and ability, the longer hikes giving you more time to acclimatise to the low oxygen levels. The starting points are Machame, Marangu, Umbwe, Rongai, and Lemosho; all hikes take 6 days, but some can be completed in 5 days. All routes converge at some point or other during the final day of ascent.
None of the starting gates are visible in high res, but the camps at Kibo, Horombo and Barafu are visible.
The final ascent begins around midnight on the 5th day from either Kibo or Barafu camps. A 6-7 hour hike will take you to the summit Uhuru peak. YouTube user GrundleflyDOTcom has a video of the final ascent.
The summit is also very famous for its glaciers which are under severe threat, with some estimates saying that the glaciers will disappear completely within 20 years. The Furtwängler glacier halved in size between 1976 and 2000, and the Northern Icefield and Credner glacier have been similarly affected.
Information about climbing Kilimanjaro tour groups can be found using these links or from WikiTravel.
---
Freestanding meaning a single mountain that is not part of a chain, for example Mount Everest is in the Himalayas, whereas Kilimanjaro is a standalone mountain. ↩