Capulin Volcano National Monument (Volcano Week 5)
Wednesday, 4th August 2010 by Matt Bucher
The solitary road that leads to the top of Capulin Volcano National Monument in northeast New Mexico curves gracefully around to the top of the crater.
Capulin Volcano is an almost-perfect cone-shaped inactive volcano that rises more than 300 metres from the surrounding plains.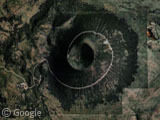 "Capulín" is the Spanish name for chokecherry, a type of tree native to North America. Just four years after New Mexico became a state (1912), Capulin Volcano was made a National Monument (1916) by President Wilson.
Here's a view of the volcano from the nearby US Route 87. You'll notice that Route 87 connects I-25 near Raton, NM and I-40 near Amarillo, TX. This makes it a common route for those traveling between Texas and Colorado, often to go skiing. The long stretch of highway between Amarillo and Raton Pass can feel especially lonesome, and Capulin Volcano is the only National Monument — and one of the only highlights for tourists — along that route.1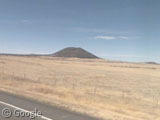 Since it hasn't erupted in at least 58,000 years, it might be easy to mistake Capulin for a hill or a small mountain. In fact, until the 1980s, it was called Capulin Mountain.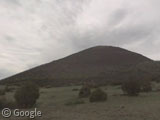 The route up to the volcano is not stunning, and its conical shape is hard to see up close. This creates a sort of optical illusion that makes the volcano look smaller than it really is.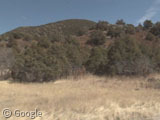 However, an aerial view, or a view from the pinnacle shows how dramatically the cone rises above the surrounding landscape. Some visitors claim it's possible to see parts of five states (New Mexico, Colorado, Texas, Oklahoma, and Kansas) from the highest point, but the flat landscape makes it hard to differentiate where state boundaries begin and end.
---
On one such trip, when I was eight years old, my family and I were traveling from Texas to Colorado to visit some of our friends. It was Christmastime, and for some reason we found ourselves on Christmas Eve morning driving across the Panhandle of Texas and that little triangular corner-slice of New Mexico anchored by Raton. The plains stretch for miles there; on a clear day, when you come up on a small rise in the road, in the bright, cloudless sky, it's possible to see twenty miles or more. We had a brown Volkswagen Rabbit hatchback and three small children bedded down in the area created by folding down the back two seats. We spread blankets across the back and spent the whole trip sleeping or on our knees looking out the hatchback window at the empty, colourless landscape. For reasons that still seem unclear, my parents decided this morning would be a good time to finally drive to the top of that inactive volcano off in the distance. We passed no cars on the approaching road; the ranger station was abandoned. There were no other cars in the parking lot at the top of the rim. It was cold and the only thing to do was to get out of the car and run around for a few minutes (a necessity on a long road trip with small children). However, when we got back in the car, the little Volkswagen refused to start. A couple of minutes of fiddling under the hood quickly degenerated into sheer terror. I had never seen my father so enraged. We were alone at the top of an isolated volcano on Christmas Eve. We could see five U.S. states and not another human being. My father slowly realised that he would have to walk down the length of the volcano and try to flag down another car on the approaching road. Had we even seen a service station in the past hour or two of driving? No one could remember. As my father set off on foot, my mother was able to keep the three of us kids entertained in that small hatchback until help arrived a couple of hours later. Somehow we made it to Colorado, but not before we were almost swallowed by the terrible solitude of this inactive volcano. ↩