Casa Grande Ruins National Monument
Thursday, 20th October 2005 by Alex Turnbull
This is the Casa Grande Ruins National Monument, a few kilometres east of my last post, in Arizona. The monument consists of the ruins of multiple structures constructed by the Hohokam, farmers who lived here from the early 1200s.
In our first thumbnail you can see the outlines of the walls of some village buildings, and just to the south-west of these is an oval-shaped area which seems to have been a sports-field of some kind.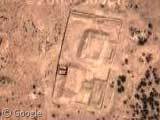 The 'Casa Grande' itself is what remains of a four story structure that may have been abandoned by the mid-1400s (its name means 'big house' in Spanish). You can clearly see it in our thumbnail… or rather, you can clearly see the roof that was built in the 1930s to protect it.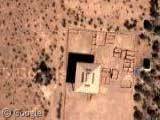 There's a good ground-level shot on the Wikipedia page, and the official site has lots more information.
Thanks to Eric, Jeff Burton and William.