GSS Now Optimised for iPhone, iPad and Other Mobile Devices
Wednesday, 17th November 2010 by James Turnbull
We've recently added a number of improvements to Google Sightseeing for those on mobile devices.
Firstly, users on smaller screens such as iPhone, iPod or Android phones will automatically see our new mobile-optimised style, which breaks the site down into one simple column.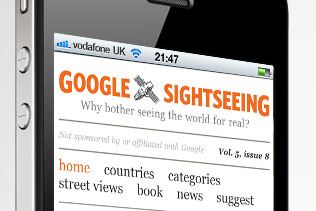 iPad users, and those using Firefox, Chrome or Safari on their desktop should also notice that the site loads a lot faster now, thanks to "lazy loading". I've written about the technicalities on the Rotacoo blog, if you're interested.
Feedback on the speed, layout or design of Google Sightseeing is always welcome, so please get in touch.