Brasília: a Modernist Masterpiece
Wednesday, 9th February 2011 by Kyle Kusch
The largest city on the planet that wasn't in existence at the beginning of the 20th century, the city of Brasília was built in 1960 to serve as the new capital of Brazil. One of the greatest civic engineering achievements in history, the city core's unique aeroplane-shaped design (the 'Pilot Plan') has been enshrined as an UNESCO World Heritage Site.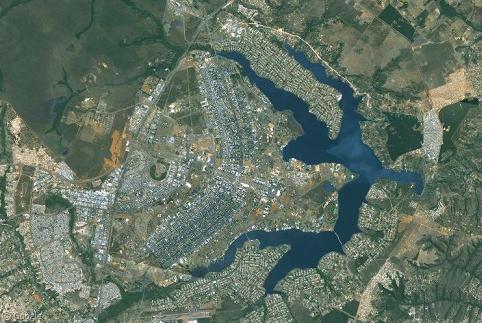 The original plan was to house 500,000 people along the curved 'wings' of the Pilot Plan, bisected by a road named the Rodoviárian Axis. Each block is designated for residential, commercial, or institutional use relative to the block's position along the axis. Each residential block is well-treed and surrounded by parks.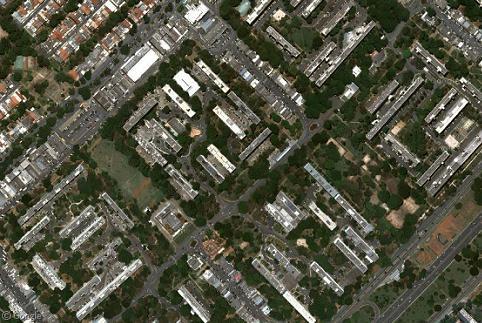 The 'body' of the aeroplane is formed by the Monumental Axis, holder of the Guinness World Record for the street with the largest central reservation (median). You can get an idea of just how wide the Monumental Axis is by looking at where the Rodoviárian Axis crosses it; the city's central transit terminal lies on top.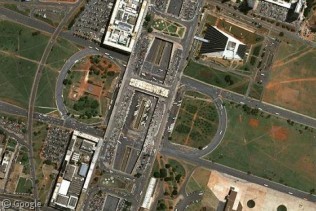 Along the Monumental Axis lie the major government buildings and major cultural facilities. The ultra-modernist National Museum and Metropolitan Cathedral1 lie just to the west of the monolithic Mall of Ministries2, identical skyscrapers that house the various government offices.
City Park is a popular destination, replete with a large artificial pond stocked with fish. The meticulously laid-out giant circle at the west end of the park is the city's massive cemetery.
Brasília's National Stadium will be one of the host venues for the 2014 FIFA World Cup, with another 26,000 seats to be added to its current 45,200.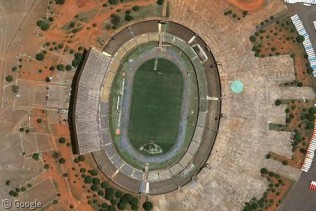 Brasília also has neighbourhoods set aside strictly for foreign embassies, most of which look more like vacation estates than government offices. However even those pale in comparison to the Presidential Palace, which fits right in with the vacation resorts located next door on Lake Paranóa (take that, White House!).
Lake Paranóa is an artificial lake created both as a reservoir and as a playground; the lake is surrounded by upper-class housing. Despite living adjacent to a lake, planners apparently found it necessary to place a swimming pool in every single garden.
As Brazilians flocked to the new capital, Brasília quickly exceeded its intended population. Today, the Federal District holds nearly three million people, and numerous suburbs have grown up around the city. Not all of them are as upscale as the original city. A crowded neighbourhood built for workers constructing the Presidential Palace still remains nearby. On the west side of the Federal District, the low-income satellite city of Ceilândia was laid out in haphazard strips.
As Google expands its Brazilian Street View coverage over time, the monumental buildings of the capital will definitely require a revisit!
There's more about Brasília at Wikipedia.
---
A good example of a Hyperboloid structure. ↩︎

Note the huge amount of cars; Brasília was designed entirely around automobile ownership. ↩︎