Spiral Island II: An island floating on plastic bottles
Thursday, 24th February 2011 by Ian Brown
Ever dreamed of living on your own private tropical island? Rishi Sowa clearly had, as he took the rather novel approach of building his own floating paradise - Spiral Island.
A keen environmentalist, Sowa wanted to make a statement about low-impact construction and recycling, so he built a floating platform from a quarter of a million old plastic bottles (and other waste materials). The first iteration was built in a lagoon on Mexico's Mayan Riviera, and was named for the pattern in which the bottles were connected. Unfortunately it was badly damaged during a 2005 hurricane, and washed ashore.
Spiral Island II was constructed a couple of years later in a lagoon on Isla Mujeres near Cancun. Street View gives us a glimpse from a nearby road.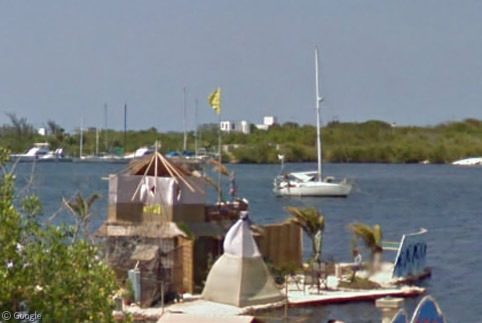 The 20m-wide platform was created from about 100,000 bottles enclosed in netting. A variety of reclaimed materials - such as scrap wood - were used to build the small house that Sowa lives in. Mangrove plants provide shade and help with the structure's stability.
While the island may look a little ramshackle, it has a number of home comforts such as an outdoor dining area, a composting toilet, a couple of ponds, and solar panels to provide power. The surface of the platform is covered with sand which - coupled with the palm trees - provides that authentic tropical island feel.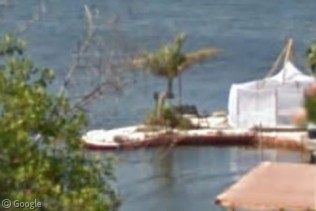 Ecoble.com has an article giving more details about the construction process, while this blog post and a YouTube video give an idea of what life is like on Spiral Island - the "Island floating on plastic bottles".