Yukon Ho! Part 1: The Top of the World Highway
Tuesday, 22nd February 2011 by Kyle Kusch
Bisected by the Arctic Circle and reaching to the Arctic Ocean, Canada's Yukon is one of the most remote locations visited so far by Google Street View. The territory is larger than Sweden but has a sparse population of 34,200 people. Today we begin a two-part journey crossing Yukon from west to east starting with the Top of the World Highway.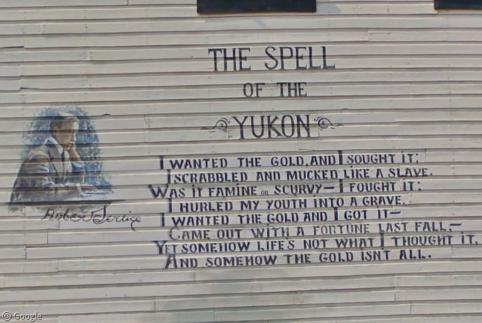 The Top of the World is so named because rather than traverse the valley bottom like most roads, it spends most of its 79 miles (129 km) along the crest of the hills, looking down on the valleys below. We follow Street View through a rainy, foggy trip from Alaska across the border into Yukon. En route to the beginning of the highway, the last town you pass through is the delightfully-named burg of Chicken. Never mind the egregious stereotype that Chicken doesn't fly, for here's the airport:
Finally, we arrive at the official start of the highway - rather anticlimactic, isn't it?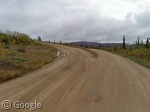 The port of entry on the American side is known as Boundary, your last chance to fill your tank before ascending the mountains into Canada.
The US-Canada border crossing at Little Gold Creek is rather unique, for both countries share the same customs building. Here, we see the lead Street View car checking in at customs. And, yes, they have two cars making this trip, a very necessary measure in these conditions in such a remote locale.
As our intrepid crew emerges from the fog, they are presented with some incredible valley vistas.
The Top of the World Highway ends at a ferry that crosses the Yukon River to the historic centre of the turn-of-the-20th-century gold rush town of Dawson City, an officially designated National Historic Site of Canada.
Dawson is known for keeping its gold rush legacy alive; in fact all downtown buildings are required to be built in a turn-of-the-century style, resulting in a collection of rather colourful buildings.
Not surprisingly, Dawson is quite popular with sightseeing tours, one of whom was captured by the Street View car: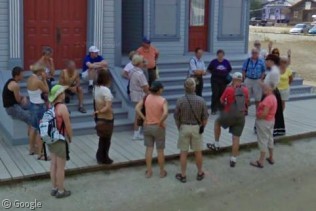 Leaving Dawson on the Klondike Highway en route to Part 2 of our Yukon journey, we travel through what look like from above as strange snake-like hills. These are in fact gravel tailings left behind from the many dredges that ploughed the soil for gold into the 1960s.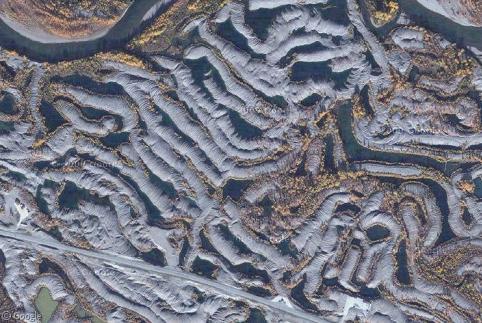 In Part 2, we continue our Yukon sojourn along the stunning Dempster Highway, which will no doubt leave you under 'The Spell of the Yukon'...