Planes on Google Maps, October 2011
Tuesday, 11th October 2011 by Ian Brown
One of the most common subjects that readers post through our suggestion form is planes - whether in flight, parked at airports, or in pieces at crash sites. Here is a collection of some of the more interesting finds from the past few years. First up, the curious sight of a Concorde at a remote edge of Heathrow Airport.
Reader Dave Schubert identifies the plane as being in an engine test stand. According to Google Earth's historical imagery feature this image was taken on the 27th of June 2010, which is interesting as Concorde was retired in 2003 - so it's perhaps a little strange that they would be testing the engines.
Next, to Canada's busiest airport, Toronto Pearson. However, we're looking at a very American icon - the Blue Angels aerobatic team.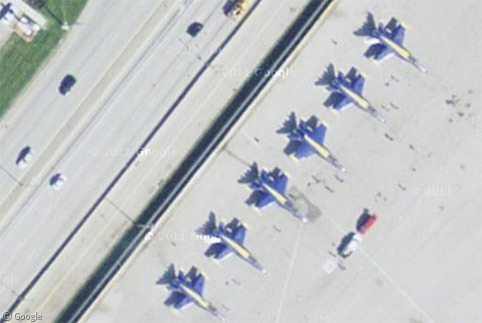 More formally known as the Navy Flight Demonstration Squadron, these planes were spotted by Kevin Hodgson. The six F/A-18 Hornets are seen parked near to a seventh plane, a two-seater F/A-18B that can be used as a backup plane if necessary. We can also see the C-130T Hercules nicknamed Fat Albert, which carries support personnel, spare parts and technical equipment.
You can read more about the Blue Angels at their official site, and at Wikipedia.
Given the recent situation in Libya, it may be a good thing that eight C-130 Hercules that were ordered by the Gaddafi regime are stuck in the southern US state of Georgia.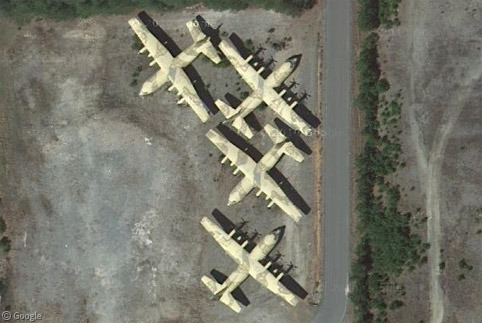 The desert-camouflaged planes were ordered and built at this Lockheed plant at Dobbins Air Reserve Base in the early 1970s. However before they could be delivered, the US imposed sanctions on Libya.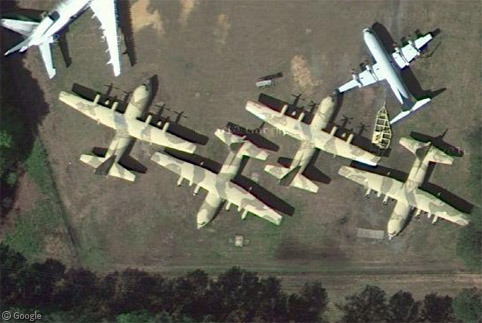 Because they are technically the property of the Libyan government, the planes cannot be moved, so they sit on flat tires, surrounded by weeds in the distant reaches of the base. Thanks to Cafe de Unie, SecretAgent Man and Jonathan Peterson for sending this one in.
Unused planes can be a problem for any airport, though at Hot Springs in Arkansas they park them a little more neatly and efficiently than they do at Manas Airport in Kyrgyzstan or Wilson Airport in Kenya. Thanks to 'Me', nga and Bryan Johnson for these.
Moving on to crashed planes (nervous flyers should probably stop reading at this point!), we start with a couple of real downed planes. This Curtis C-46F Commando crashed in November 1979, shortly after taking off from Churchill in northern Canada.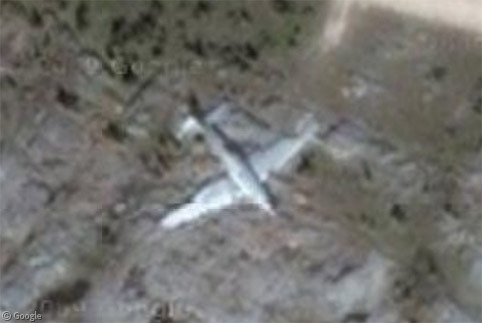 It was reported to us by Lindsay Marshall, and airliners.net has some good pictures. Apparently the inside has been setup with a picnic table, and is a local tourist attraction.
Just a few months ago, two people unfortunately lost their lives when their small plane crashed into Lake Winnebago, Wisconsin. New satellite imagery just happened to capture a crane recovering the wreckage. Thanks to milwhcky for reporting this one via Virtual Globetrotting.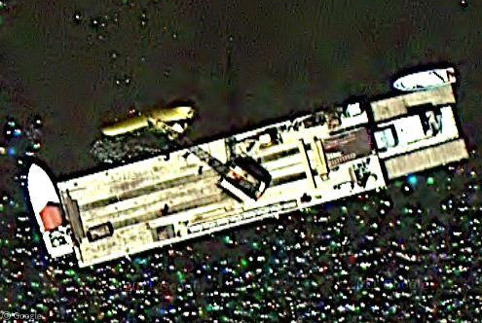 Hollywood is fond of creating its own plane crashes, and the set from 2005's War of the Worlds is now part of Universal Studio's tour, as shown in this YouTube video. Thanks to Anthony Moore for the suggestion.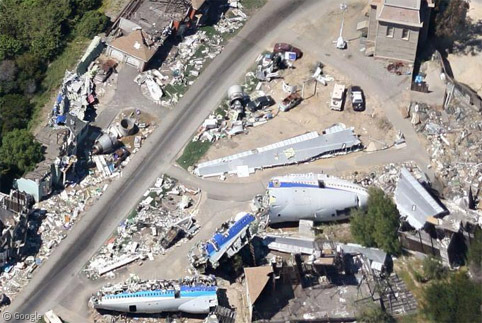 The studio spent $2million to bring an unused 747 to the lot, carefully broke it apart and then built the houses affected by the crash in the movie. Google's 45-degree imagery allows us to see the set from different perspectives, including engines lying next to a house, seats in the ripped apart cabin, and the charred tail section.
Another apparently horrific plane crash was spotted by Bryan Johnson at the former Alameda Naval Air Station near San Francisco.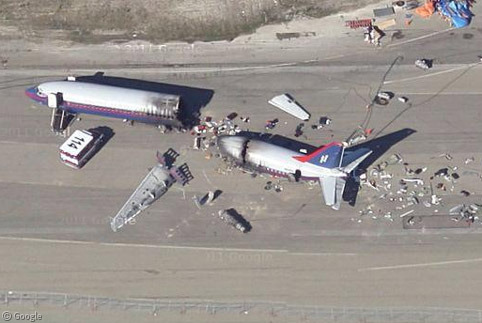 Some of the 45-degree imagery was apparently taken on a different day, and reveals crowds of people and emergency vehicles.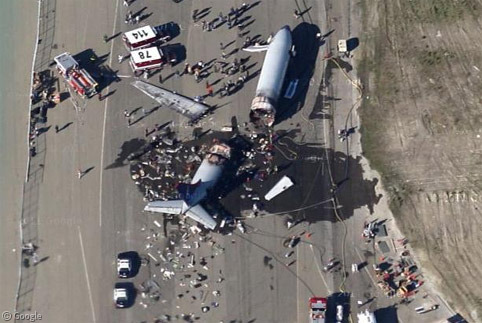 However, we can also see lots of technical equipment, including a camera crane, so it's clear that this isn't a real crash, and Geek.com reveals that it is, in fact, a set for the TV show Trauma.
We had previously featured Alameda for its role in a Matrix film, though personally I'm hoping that someday we'll see images of the Mythbusters team who film regularly at this location.
Thanks to everyone who contributed to this post. Please use the suggestion form if you know if interesting locations that you think we should feature.