Valleys of Valais: Lötschental and Belalp
Friday, 14th October 2011 by Kyle Kusch
The Street View trike has been at it again, this time in the Swiss Alps. The trike visited the slopes of eleven different alpine resort areas to put you right in the middle of famed ski resorts, towering mountains, and bucolic trails, with Zurich's Letzigrund stadium as an added bonus. Each of these areas could be an entry in themselves, but we'll look at two beautiful valleys in the canton of Valais that surround the largest glacier in the Alps; all of which are part of the Jungfrau-Aletsch World Heritage Site.
The Lötschental (Lonza Valley) is the longest valley in Valais north of the Rhone River. The Lonza travels 27 km (17 mi) through a valley surrounded by peaks well over 3,000 metres.
The trike gives us great views of meadows on the slopes of hulking mountains such as the Breitlauihorn.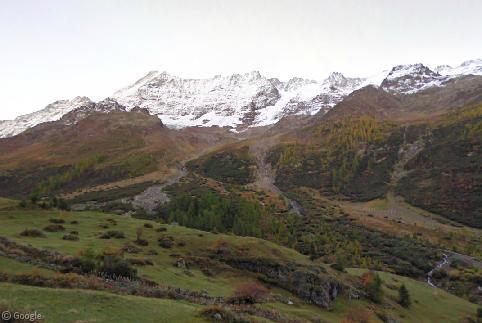 With the trike, we get to see places not accessible by car. Many alpine villages in Switzerland are only accessible by trail or tramway, such as Weissenried, a very traditional-looking hamlet comprised of chalets that are often centuries old.
The trike also navigates through larger1 villages with some road access such as Blatten, but even here most of the houses and chalets are quite condensed. As the trail above Blatten climbs into the Firtwald forest, one gets an aerial view of Blatten.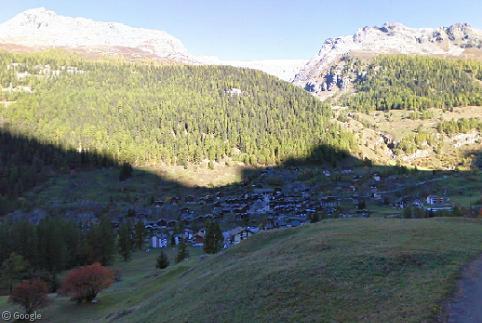 At the north end of the Street View trike's Lötschental journey is Tellistafel, where a small group of cabins are framed by the glaciers of the mountain known as the Tellihorn.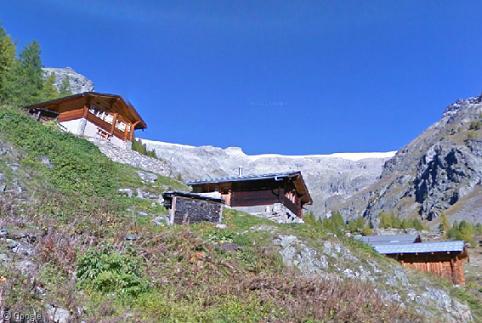 Crossing over the Nesthorn from the Lötschental, we enter the resort area of Belalp, another village accessible only by trail or tram. East of the main village, we get a close-up view of the Bruchegg ski lift.
Along the Belalp trail are numerous houses and chalets clinging to the mountainside hundreds of metres above the valley bottom.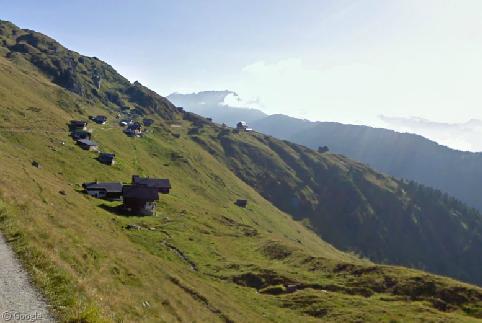 At the east end of the Belalp trail, the journey ends at the Hotel Belalp, a luxury hotel and restaurant which dates back to 1906.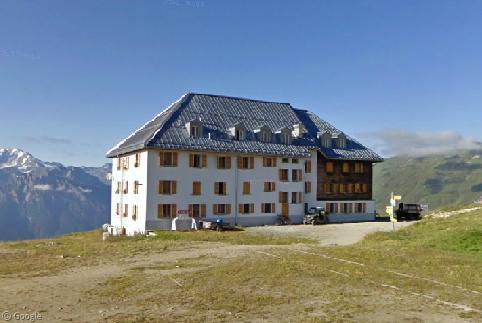 Next door to the hotel is the Church of Aletschbord. A quick turn to the right, and the view opens up toward the valley of the Massa River.
Both Belalp and the Lötschental lie at two ends of the largest glacier in the Alps, the 120 km2 (46 sq mi) Aletsch. At the top of the glacier is the Jungfraujoch ridge. At 3,471 m (11,388 ft), the ridegetop is accessible from the north side by a railway built entirely inside mountain tunnels, but those coming from Belalp and the Lötschental must hike the massive glacier2 to reach the Jungfraujoch. At the top, a small observatory sits alone, from which visitors can enjoy a 360-degree panoramic view. Lush green valleys reach out to the north; a stark contrast to the massive Aletsch, whose icefields stretch into the horizon.