Google Maps publishes aerial images of murder scene
Tuesday, 31st January 2012 by Alex Turnbull
The continuing rollout of 45° "birds eye view" images across the globe1 has now revealed a real-life tragedy. On the railroad track near Sanford Avenue in the city of Richmond, California, we can clearly see a corpse lying on the rails.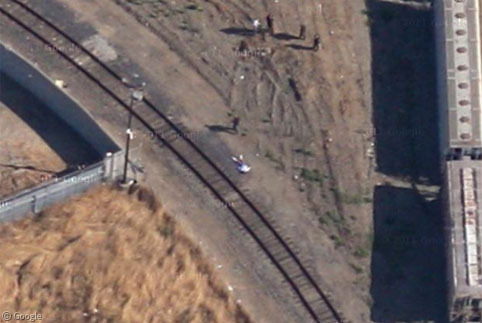 Camera facing north
The ever increasing resolution of Google's imagery has continued to reveal greater detail people's lives – particularly through the Street View imagery – but this is the first time an aerial photgraph of such a graphic nature has been published on the site.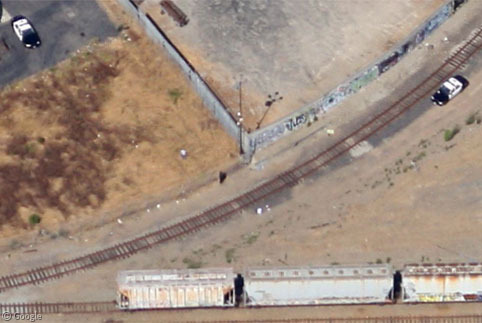 Camera facing west
We can't be sure about the details of the scene – there's no sign of injury from this distance – but the number of police officers and vehicles (both marked and unmarked) suggests that this is unlikely to have been a case of accidental death.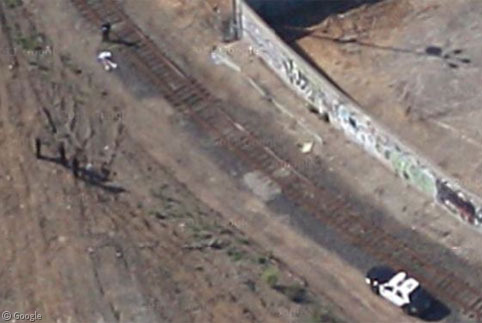 Camera facing south
The location however gives us more indication of what might have happened here. This track forms the apex of an area that is known locally as the "Iron Triangle"2. It's a high crime area in the middle of a city that was in 2007 rated as the 9th most dangerous city in the United States.
There's nothing to see in the aerial image facing east, but we can have a look from this direction on Street View – of course the imagery was captured on a different day, so nothing is revealed about the crime itself.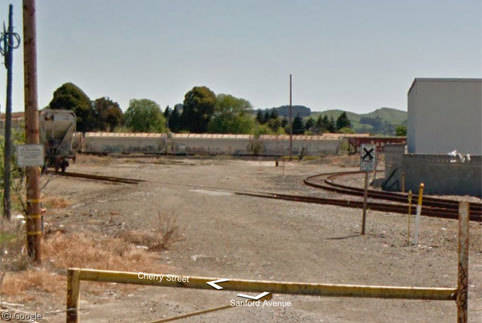 Can anyone locate a news report or press release about the incident so we can try and work out what actually happened here? The time stamp on Google Maps claims this image was taken in 2012, but it's unclear how accurate this is, so a specific date could be hard to pinpoint.
Thanks to @KeirClarke.