Top Ten Most Expensive Restaurants in the US
Friday, 2nd March 2012 by Ian Brown
Last year bundle.com released a list of the 25 most expensive restaurants in the US, with mind-boggling average prices for highly stylised meals consisting of a wide array of exotic ingredients. However, it won't cost you a penny1 to join us for a guided Street View tour of the top ten, which between them have accumulated fifteen Michelin stars. We begin in Chicago where half of the restaurants are located.
10. While not quite as lofty as its mountainous namesake, diners at Everest enjoy stellar views from the 40th floor of the Stock Exchange building.
An average price of $546 will get you a selection of Chef Joho's specialties such as "Magret of Mulard Duck, Wild Pine Honey, Marinated Turnips à la Colmarienne" - one of a number of menu items which the menu identifies as "dishes upon which Everest has built its reputation". Everest has a single Michelin star.
9. It costs just one dollar more for a meal at chef Daniel Boulud's three-Michelin-starred eponymous restaurant2 in Manhattan, shown on Street View undergoing a bit of door repair.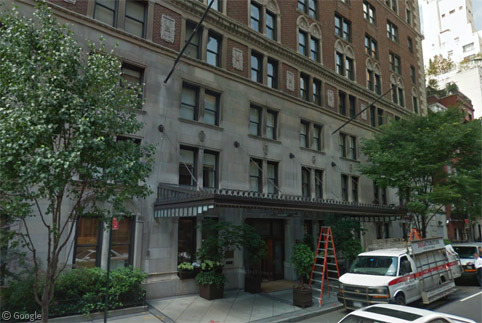 A highlight of the menu appears to be the "Duo of Four Story Hill Farm Poularde Demi-Deuil - Poached Breast with Savoy Cabbage Black Truffle Stuffed Leg, Chestnut, Albufera Sauce", which is not your average chicken dinner.
8. Back to Chicago3 where Les Nomades ($558 but zero stars) is one of the few on this list that actually deigns to have an exterior sign.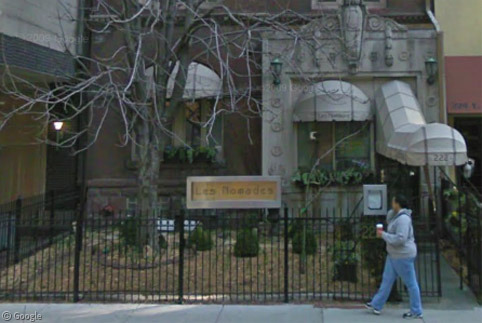 The dessert menu caught my eye, particularly the "Warm chocolate tart with raspberries, white coffee bean ice cream, vanilla froth, chocolate sauce" … though I hope vanilla froth is more appetizing than it sounds.
7. Just two blocks to the north, the same amount of cash gets you a meal at Tru, where the single-star dining is discreetly hidden behind white curtains.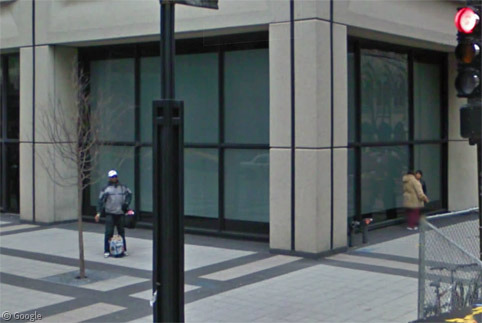 Again I felt compelled to turn to the dessert menu, where I would imagine the $15 "s'more (graham, chocolate, marshmallow)" is somewhat more extravagant than the standard campfire treat that would usually set you back a few cents.
6. Now to California, where Melisse in Los Angeles has an average bill of $576 but no stars. The slightly drab exterior is offset by a luxurious interior with purple walls, crisp white linens and roaring fireplaces.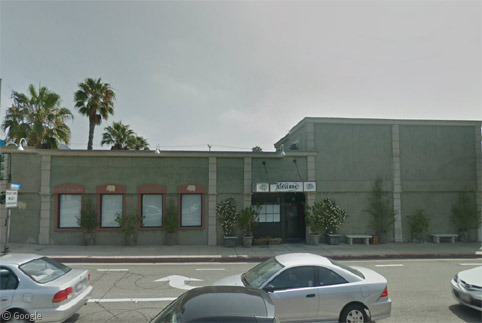 The wine list runs to 67 pages and is topped off by a Chateau Latour priced at $7,750.
5. To Chicago again where we'll assume that guests at chef Charlie Trotter's two-starred eponymous showcase usually don't arrive in a car with a dirty t-shirt covering the window!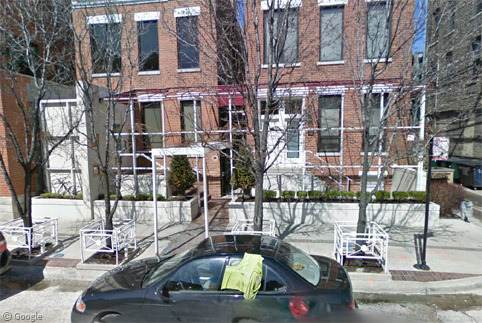 Being vegetarian myself, I'm happy to see a Vegetable Menu on offer, which includes "A Study in Legumes with Collard Greens, Rutabaga & Anise". I'm not sure I've ever seen any food, let alone greens and rutabaga, described as "a study" before. Should we be concerned that the average bill here is $666?
4. Less than a mile to the south is our final Chicago stop, and the only three-Michelin-starred restaurant in the city. Alinea's imposing and cryptic grey exterior is matched by its imposing and cryptic grey website.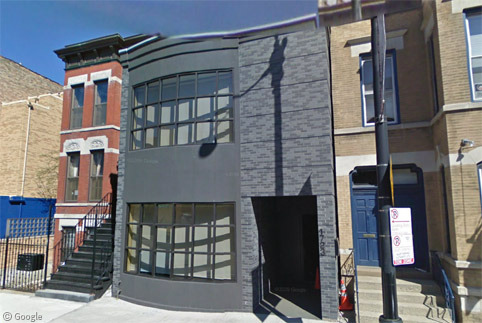 Here the average prices start to get truly astronomical. $736 can get you a 20 course meal featuring a hot potato with a cold potato, a black truffle explosion and a "Squab inspired by Miró".4
3. Another eponymous restaurant is that of chef Michael Mina in San Francisco where the average bill is $844.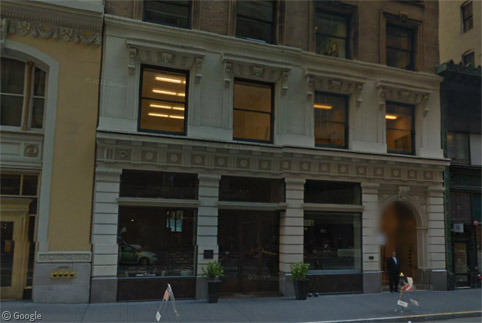 I couldn't help noticing that the most expensive item on the menu is remarkably similar to the standard English Sunday lunch of roast beef, mashed potatoes and vegetables. $98 gets you "hay baked côte du boeuf for two, la ratte potato purée, crispy brussels sprouts". But it's the drinks menu where the real money is required, with a $250 Remy Martin Louis XIII cognac, or a $25,499 Chateau Lafleur 1945.
Mina has a Michelin star for both this restaurant and the other that carries his name in Las Vegas. He has 16 restaurants across the US.
The king of expensive restaurants is chef Thomas Keller, who operates our top two, on opposite sides of the country. Both have held three Michelin stars since the mid 2000s.
2. In New York, Per Se is located on the fourth floor of the Time Warner building at the south-west corner of Central Park.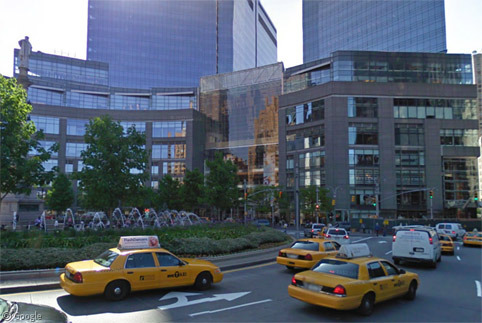 With an average bill of $883, the menus change daily, and often include the names of farms and other suppliers of the luxury ingredients. On the day of writing highlights included "Tsar Imperial Osetra Caviar with Applewood Smoked Bacon, Scallop "Blini", Creamed Spinach, Frisée and Nasturtium Caper Emulsion" and "Blackmore Ranch Australian Wagyu with Crispy Bone Marrow, Potato "Mille-Feuille", Glazed Heirloom Carrots Watercress Salad and Sauce Bordelaise". Respectively these cost $75 and $150 on top of the standard $295 prix fixe menu.
If nothing on the 88-page wine menu meets your taste, they will kindly allow you to bring your own wine … for a $90 corkage fee. The most expensive wine appears to be a magnum of Pétrus, which costs $30,250.
There is, of course a private dining room, and should you wish to provide your guests with a gift, there are several options including a collection of salts (French, English, Japanese and Hawaiian), truffle popcorn, or one of Keller's cookbooks.
1. The most expensive restaurant in the US is tucked away in the tiny Napa Valley town of Yountville. Keller's The French Laundry occupies a century-old building which was, in the 1920s, actually a steam laundry.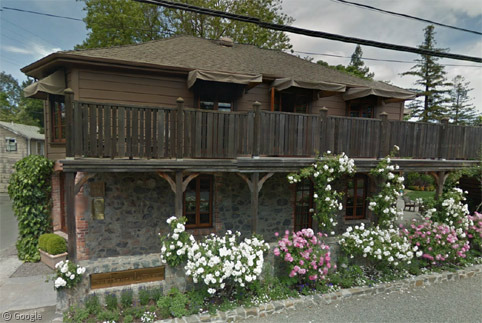 Operating in the same way as Per Se, with unique daily 9-course tasting menus, the average bill at The French Laundry is an astronomical $957. Sample dishes include "Herb-Roasted Salsify with Quail Egg, Black Trumpet Mushrooms, Piedmont Hazelnuts and Garden Mâche" and "Alpaco "Mousse au Chocolat" with Spice Pudding, "Panna Cotta", Gros Michel Banana and Marcona Almond Glacée".
While the wine menu is more extensive here (at 111 pages), it has only a handful of wines in the five-figure range. The Pétrus is again the most expensive, at $13,000 for a standard bottle.
If you have the financial resources to enjoy these restaurants you would probably also enjoy our Top 10 Most Expensive Hotel Rooms post from last year.