France's Aérotrain
Thursday, 10th October 2013 by Ian Brown
In the mid-1960s, the future of public transport in France seemed destined to be the utterly fantastic concept of a jet-powered hovertrain. Sadly after a decade of research and testing, the Aérotrain project was cancelled – however remnants of the project can be found in the countryside south of Paris, including this test train which stands on a roundabout in Gometz-le-Châtel.
The Aérotrain was mainly the invention of engineer Jean Bertin. It rode on an air cushion created by powerful compressors in the trains and was intended to be a simpler and cheaper alternative to magnetic-levitation trains which other countries were experimenting with. Removing rolling resistance allowed the train – guided by the inverted 'T' shape of the rail – to reach very high speeds when powered by jet engines. This YouTube video gives an excellent overview of the project1.
Segments of the initial 6.7km (4.1 mile) test track built in 1966 can still be seen in the countryside around the town, though it is mostly overgrown and parts have been removed when the land was redeveloped.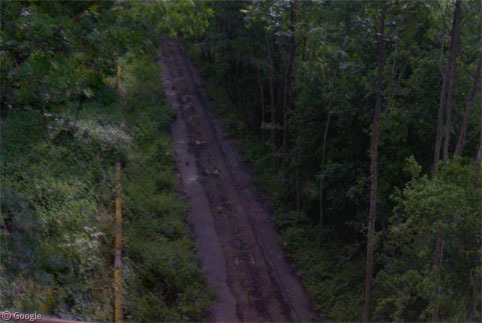 A short segment of rail was preserved as a monument on a roundabout, though other sections have been abandoned by the side of the road. A second track was built nearby in 1969, but it was removed and converted to a recreational pathway a few years ago.
A number of different prototype trains were built, from small test vehicles to full-size models intended to meet the needs of commuter traffic and long-distance journeys.
The most significant surviving structure from the Aérotrain era is an 18km (11 mile) long elevated test track, also built in 1969. The northern end of this track is west of the town of Ruan, with a 'station' which allowed the operators to turn the train for the return journey.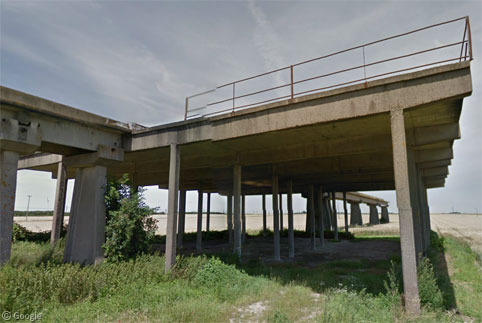 From here, the track runs south – mostly through farmland – supported by 5m (16ft) pillars.  Many of the pillars have been decorated by graffiti artists, with long stretches featuring this white figure.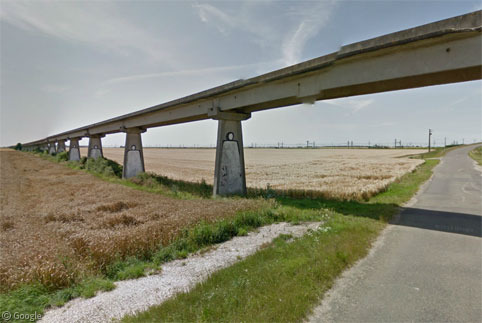 The almost-perfectly-straight track allowed trains to reach speeds approaching 400km/h (248mp/h).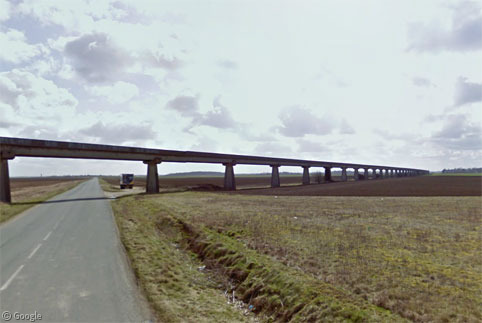 A section of track had to be removed to allow construction of the A19 motorway.
The test trains were stored and serviced in a large hangar near Chevilly.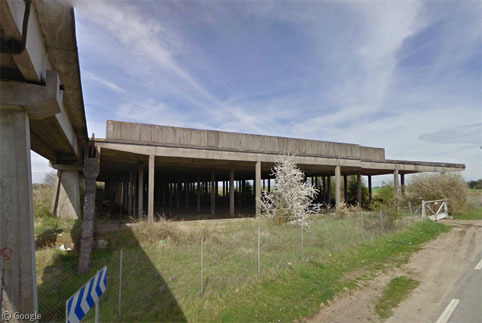 Further south, the Aérotrain track runs directly alongside the rails for the TGV which was selected as a more affordable and practical alternative, and disappears into woodland for a stretch.
The track ends at another 'station' near the town of Saran.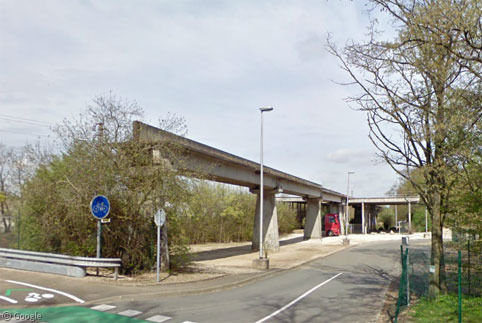 You can learn more about the Aérotrain project at Wikipedia and this website. In addition to the video linked above, this YouTube channel has several more of interest, though you can watch the British Pathé newsreel with the original commentary here.
Thanks for the inspiration for this post go to Gilles Tran who wrote this post on Metafilter.
---
Unfortunately there's no sound of the trains – there is only the Queen song. ↩