Solar Power Towers
Friday, 25th April 2014 by Ian Brown
We've visited a few solar power generation facilities in the past, but here is a roundup of solar power towers – elevated structures surrounded by movable mirrors called heliostats. The mirrors concentrate solar energy onto receptors in the tower where the heat is used to generate steam, which drives turbines to create electricity1. By far the largest location (by generating capacity) is the Ivanpah Solar Power Facility in California's Mojave Desert, south-west of Las Vegas.
An incredible 275,000 mirrors (two per heliostat) are arranged around three 140m-tall (459′) towers at this facility, which opened earlier this year at a cost of more than $2 billion. When it reaches full functionality it's expected to generate 392MW, enough to power more than 310,000 homes. Recent Street View imagery from the nearby I-15 highway shows two of the three towers undergoing testing. We can also see why there were concerns that the glare from the towers might be a visual distraction to drivers…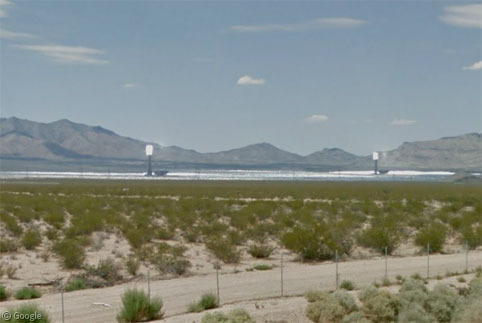 Google's satellite view features imagery from two different time periods, and shows the three heliostat fields at different stages of construction – one fully complete, one with the inner-field areas nearing completion, and one still needing a fair number of heliostats to be installed.
Ivanpah is actually the largest capacity solar plant of any type – there are parabolic trough fields which come close, but all other solar towers only generate 1 – 20 MW.
About a 3 hour drive to the west in Lancaster, a prototype 5MW facility called Sierra SunTower uses a pair of towers to collect solar energy from 24,000 heliostats.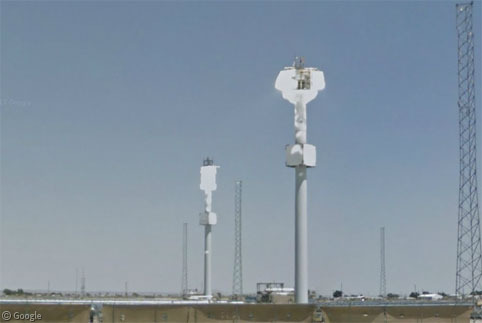 Spain is one of the nations leading the drive for more solar energy generation, with around 30 solar installations across the country, including several towers around Seville. We visited the PS 20 and PS 10 towers for Earth Day 2010, but it's worth a revisit for the new Street View images from around the site which allow us to see the 161m (541′) PS 20 tower close-up …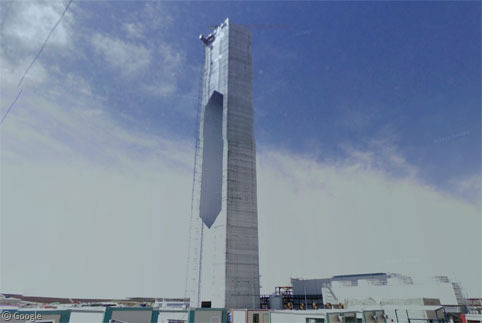 … and to see from a short distance away just how concentrated the light gets near the towers, with rays clearly visible. A third tower is seen nearing completion here as well.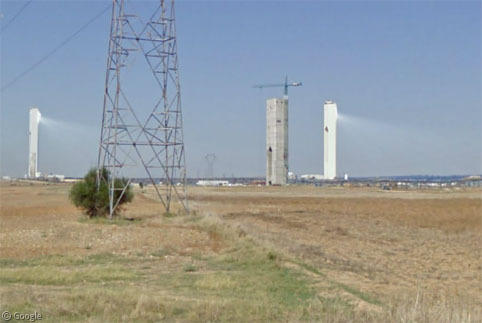 Further east, the Gemasolar facility is of similar size to PS20 and is also visible as a glaring bright object from a nearby highway.
China has 3 solar power tower facilities, including this one in Delingha in the Qinghai province, which generates 10MW.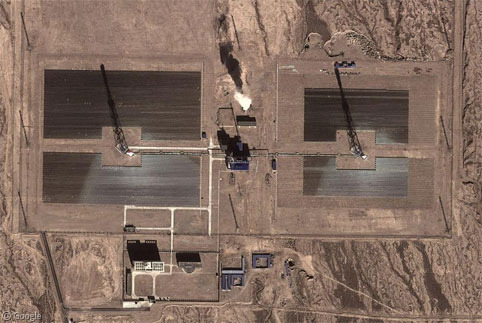 Finally, we can get a glimpse of the solar power tower in Jülich, Germany in this Photosphere from Dirk Huchtemann.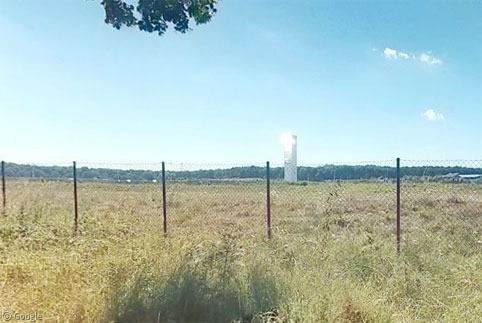 Bonus sight!: Prior to the development of towers, in 1970 the French experimented with a large-scale solar furnace near the town of Odeillo. A small number of heliostats reflect the sun's energy onto a concave mirror surface, which focusses it on a receptor, generating temperatures of up to 3,500 °C! (6,330 °F)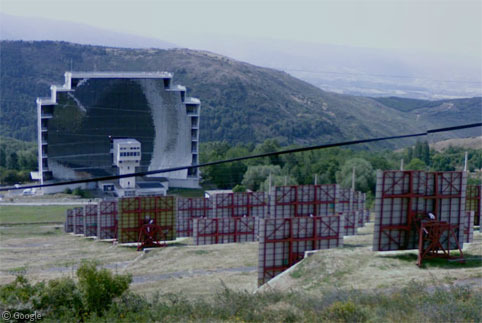 ---
This is a very simplistic explanation of the generation process – for more details please read the Wikipedia entry. ↩