On this day: Last Recorded Eruption of Mount Fuji
Tuesday, 16th December 2014 by Ian Brown
The last recorded eruption of Mount Fuji started on this day in 1707. The eruption lasted for a couple of weeks and formed a new peak and crater on the south-eastern flank of the mountain. Despite regular seismic activity in the country, scientists can only speculate about whether another eruption is imminent.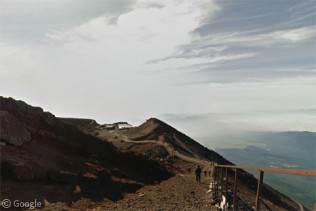 This icon of Japanese art is marked as a UNESCO Cultural World Heritage Site and is climbed by hundreds of thousands of people each year, mostly in July and August when much of the snowpack melts. Recently the Google Trekker paid a visit and captured spectacular imagery of the volcanic rock formations around the summit crater and stunning views of the surrounding countryside.
The several climbing routes feature numerous huts where trekkers can rest and refuel, and there is a post office at the summit should you wish to mail a postcard from the highest point in the country.